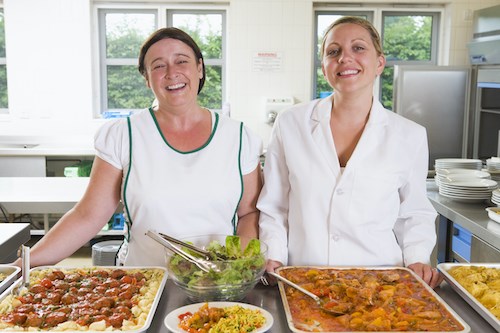 Are you a Canteen Manager, Caterer or Contractor running a school canteen? Then this page is for you! 
Our fundamental objectives are to assist schools to purchase more effectively and improve the profitability of school canteens by negotiating favourable discounts from companies supplying school canteens.
We are the largest school buying group in Australia with over 6,000 members, so ASCA members can enjoy sizeable discounts from a broad range of quality suppliers that are focused on delivering great service to schools.
Canteen Membership Benefits
Full Membership is available to schools that operate a canteen.
If your school canteen is run by a Caterer or Contractor, we can also offer your canteen operator an ASCA Canteen membership and you can still enjoy a School Membership.
Canteen benefits include:
Canteen Specials and Promotions - ASCA Preferred Suppliers regularly run promotions which can increase sales and profits for ASCA member canteens including specials specifically for ASCA members
Greater Efficiency: We have taken the legwork out for you!
Access Your Favourite brands and products: ASCA has negotiated discounts on popular products that people trust and love
Increased profit: Enjoy member discounts and perks with ASCA Preferred Suppliers
FREE Termly Newsletters and monthly e-News with special deals, information and promotions from your ASCA preferred Distributor and ASCA preferred suppliers like Schweppes, Streets, Inghams - and so much more!
More variety in one delivery: More product choice, less orders, less deliveries, less invoices to manage
Events and networking to meet suppliers and network with your peers
Member rewards: ASCA Rewards Loyalty Program - earn points simply by ordering products you need
Special VIP events and perks: 100% Club - Termly prize draws, movie nights, annual events and more!
Accreditation program: ASCA's 5 Star Accreditation is the only national quality accreditation for school canteens in Australia. Value $1,000 – FREE to ASCA members
Expert guidance and information: ASCA's experienced Area Managers are here to help you improve your canteen's performance and profitability
Staff and volunteer benefits: Take advantage of ASCAplus staff benefits program - great discounts for school staff and volunteers
We're proud of our successes in delivering these benefits to school canteens and strive to continue to deliver great results for our members.
Benefiting the School, the Canteen, and reaching children in need.
When you purchase from the main ASCA suppliers, you are also helping ASCA's charitable foundation - which supports the education of disadvantaged children.
Become an ASCA Member now! Find out more and how to become an ASCA Member by speaking with an Area Manager today! 
Call 1800 219 556 or click here to Contact Us.
Canteen Product Categories:
Bakery
Beverages
Canteen Equipment
Frozen, Chilled and Dry Foods
Ice Cream
Packaging, Cleaning and Disposables
Snacks and Other
Systems for Parent Online Ordering and Cashless Payment