Canteen Accreditation 
ASCA's 5 Star Canteen Accreditation Program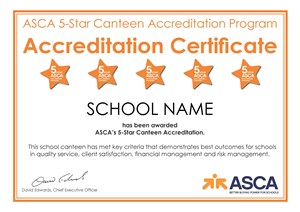 The 5 Star Canteen Accreditation is a national quality accreditation for school canteens to provide principals, school councils, P & C Committees and parents with the reassurance their school canteen meets required standards of quality.
ASCA's 5 Star Accreditation objective is to drive continual improvements with canteen profitability, student & parent satisfaction, managing risks, upgrade and improving systems with a focus on 5 key facets of the canteen and operations:
Staff Competencies
Systems
The Canteen as part of the School Environment
Quality Products & Services
Regulatory Compliance and a Healthy Environment
​As an ASCA Member, you will receive a FREE Assessment Report, Certificate and an Annual Assessment review valued at $1,000!
Benefits:
Certificate and Assessment Report
Improved canteen profitability
Increased student and parent satisfaction
Better risk management
Access to free business advice on how to run an efficient and profitable canteen
FREE annual assessment, valued at $1,000
Increased staff pride and engagement
The accreditation drives continuous improvement and helps you set critical key performance indicators (KPIs) for your canteen and staff.
For more information, contact your Area Manager and join the growing number of schools that proudly promote their 5 Star Accreditation to their school community.