Menus, Recipes & Cookbook
Menus
Sample Primary Menu - click here. 
Sample Secondary Menu - click here. 
Both are from the Canteen Resource Manual.
Recipes
The introduction of the healthy food guidelines has changed the dynamics of the canteen dramatically. Now, more than ever, tasty and healthy home-cooked meals are in demand by students.
For canteens that have the equipment and manpower to cook meals in, ASCA has collated a number of great-tasting recipes. You can see these in our Food for Thought Cookbook!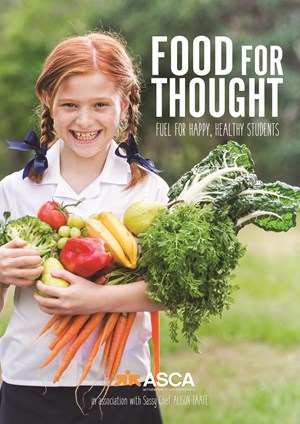 ASCA's first ever cookbook, Food for Thought, launched on 17 May 2017.
Food for Thought is the first national cookbook designed specifically for schools, with over 200 pages of resources and recipes complied to create healthy food service in bulk quantity.
Chef-designed recipes will challenge all levels of cooking ability and inspire new menu options. Plus, there's a catering section to help increase profits.
Note: ASCA member schools can qualify to get a free copy, with additional copies available to purchase through the link below.
Listen to ASCA CEO David Edwards chatting to Ed Phillips on all things Food for Thought - listen now